Last Updated on 2 months
Some luxuries become necessities when you are exposed to them for a quite long period. A car might not be the best place to find yourself sleeping, but long travels and often driving can lead you up there.
These can be sore on the neck and head while giving you tedious back pain. To avoid such encounters, you will need headrests or car neck pillows that can support your neck on bumpy travels.
True to their name, car neck pillows do keep you comfortable, but not all of them provide complete neck support. Buying the best car pillow can improve your riding experience and also save you from the strain of stiffed neck muscles.
Car neck pillows are cushions designed to bring relief to your neck and head pain. Some of the car pillows are of a design that can virtually get fastened with our seat so that your posture can be maintained while driving or resting your head. With proper maintenance and use, these pillows can last a long time.
Car neck pillows come in various forms, and confusing them with regular travel pillows is not what you want to do.
On average, people spend about 31 hours per week in a car and around 5.5 million drivers suffer from severe back and neck problems due to spending an immense amount of time behind the wheels.
Is buying a car neck pillow actually this much struggle?

Do all neck pillows offer different areas to support neck padding?
Well, continue reading the article to get answers to your unasked questions. Here, we provide you with a list of the seven best car neck pillows and all that you need to know about them before concluding.
Things to Consider Before Buying the Best Car Neck Pillows:
Best-selling brands and pillow manufacturers opt for a profuse material and design which is easily washable, soft, and breathable. These are high-rated because of their comfort, support, convenience level, and comfortability.
The typical car hand rests leave a space between the neck, head, and shoulders. This can cause serious discomfort while driving for a longer time.
This also is a threat during sudden breaks or emergency collisions. A good quality handrest and neck cushion will avoid all such problems.
The best car neck pillows come by need and preference. You have to ensure the pillow you buy not only fits your car but also aligns with your posture.
Therefore, you should get a car neck pillow considering the following factors in mind.
Price Range
Price adds a different touch to the design and texture of the pillow. Less expensive pillows are generally made up of polyester or foam. They have a significant difference in the quality of material as compared to other pillows.
The best range of car neck pillows lies between $20 to $40. Anything less is a question of quality and durability.
This price range may offer straps to bind the pillows to the headrest or lumbar support pieces. They have premium memory foam inners and leather finishing.
Anything above $40 gives incredible features. They may also give offers of packs of pillows in the same price range.
Other premium factors include back heat, neck massaging, or full back support.
Comfort
The top requirement when choosing a neck pillow is comfort and ease. It should cover soft covers and give relief to the neck, shoulder, and head that too while absorbing pain.
It should be skin-friendly. Without proper support and comfort, you can have chronic neck and back pain. With comfort, the actual thing you are looking for is support. 
A pillow that is easy to install should be preferred. If not, this can be a real frustrating task. This becomes a headache if you plan to switch from one vehicle to another.
Prefer buying a car neck pillow that has easy-to-use methods and clips for holding it with the car headrest. 
Safety and support
The safety-insured and safety-certified car pillows must be a priority. They offer maximum resistance during a collision. It is to be noted for whom the pillow is being bought.
If it is for those who sit beside a passenger then soft neck cushions can be used. But if they are being used for people that do the work daily for longer hours, it is better to invest once.
It is better to opt for larger pillows if your back and neck hurt. The posture is very important in this case. Also, consider if you prefer a firm pillow to support your neck and a soft pillow to support your back.
Make sure you know which part to focus on while you look for a pillow to fit in your car.
Durability
This can be done by checking the reviews online. It allows longer sustainability of the pillow. It helps to spend money once and for a better product.
Otherwise, you will have to buy your pillow every once in a while. No one wants a pillow that has to be replaced every six months.
Material
Nowadays, car neck pillows are made of various materials. Choosing the cushion material of faux leather, fiber, or memory foam; all depends upon your choice and comfort.
Choose hypoallergenic materials if you are allergic to any specific pillow material. Lined plastic pillows offer more support and a firmer grip. 
Car neck pillows made from memory foam are soft but offer support too. These are best known for providing comfort and softness. Some people are into aesthetics and others are into quality.
Make sure to choose wisely relating to your personal preferences.
Shape
Lately, many new designs and shapes for neck pillows have been introduced. Considering the new trends of the public, comfort and ease come with style.
Therefore various shapes and sizes have been introduced into the market. 
Some pillows are wrapped sound the neck, while others are attached to the back of the headrest.
Personalized pillows may be an option if you need a car pillow that doubles as a car neck pillow.
Easy to wash
Another main factor to be considered is the cleaning of the pillow. It must be kept in mind that either the material inside the pillow is washable or not.
Does it condense the inner cover or outer fabric? Does the material support washing or dry cleaning at all?
Certain pillows can be thrown in the washer and washed thoroughly whereas others may not this easy to wash. They can alter the shape and size of the pillow if it is not of good quality.
Therefore all these things are to be kept in mind. 
Colour
In modern times, comfort comes with flashy objects. Not only do people want the best car pillows but also do they opt for things that match their fashion sense and style.
Try not to go for a color that goes well with your aesthetics only and not with posture. Look for pillows that give you all in one; color, fashion, and style.
Here are some of the best car neck pillows with their key features mentioned below for comparable reasons.
Top 7 Best Car Neck Pillows
| Image | Product | Details | Price |
| --- | --- | --- | --- |
| | Feager Car Neck Pillow | Breathable and removable cover | Check Price |
| | Anzhixiu Car Neck Pillow | Extra soft and comfortable | Check Price |
| | Gusodor Breathable Car Neck Cushion | Shrink proof | Check Price |
| | Zatooto Car Neck Pillow | Comfortable neck support | Check Price |
| | Bczoyy Neck Travel Pillows | 3 ergonomic ways to wear | Check Price |
| | Buluby premium car neck pillows | Best for daily use | Check Price |
| | Seahome Comfty Pillows | Premium quality memory foam | Check Price |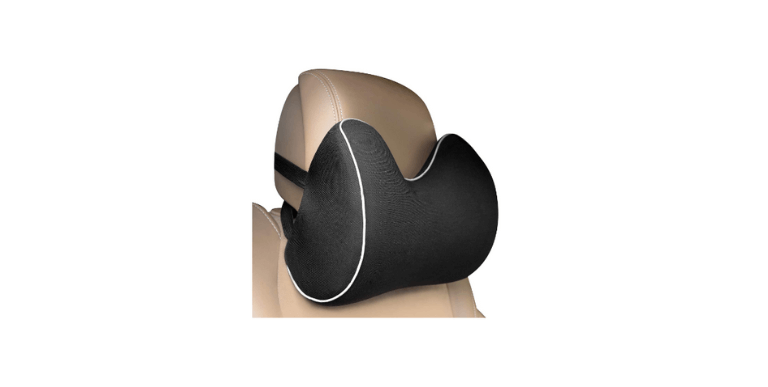 Feager car neck pillows are the best-known travel pillows available on the market. These provide a comfortable journey without causing neck soreness.
These are easy to install and come in an aesthetic design that goes with all car styles. 
These are well-cushioned and well-designed headrest pillows. They alleviate neck pain and provide cervical support. It has a washable protective cover.
It comes with two adjustable straps. Feager pillows are made of 100% memory foam, ensuring comfort, support, safety, and luxury at the same time. 
It is a machine-washable pillow that is suede black in color and is convenient for both drivers and passengers. The buckle and zipper are durable with a removable mesh cover.
Its ergonomic design allows perfect air circulation and neck support. 
Manufacturer:
Feagar
Fabric Type:

100% Memory Foam
Instruction:
Machine Wash
Weight:
13.4 ounces
Dimension:
9.4 x 7.1 x 5.9 inches
Model Number:
8541801823
Colour:
Black Car Neck Pillow
Key Features
100% Memory Foam
Perfect add-on for car seat
Breathable and removable cover
Durable
Ergonomic design
With 2 adjustable straps
Inner cover protection for sweat and dust
Useful for both drivers and passengers
Allows air circulation
Removable mesh cover
Durable straps and buckles
Temperature-sensitive

May not first all car seats
Why Choose This:
Unlike other pillows, this car neck pillow holds steady along with the headrest with 2 straps.

The pillow cover is removable and washable.

Dense, thick, and high-quality memory foam to keep the pillow soft, comfortable, and mushy with the perfect amount of support.

Best quality car neck pillow for both drivers and passengers.
You might also like these Car Products:
---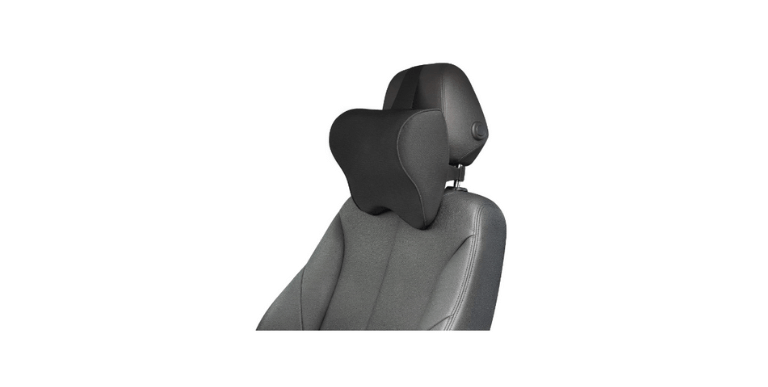 This car neck pillow covers the distance between the car seat and the neck. It provides total support and safety to the neck and head region.
It relieves the neck pain and soreness caused by long-term driving. It is instructed to angle the car seat by the car neck pillow for longer durations of travel.
Anzhixiu car neck pillows are available in 3 exciting colors; black, blue, and grey. This wide variety makes it easier to choose the best color that goes with your car's vibe.
It is designed to give proper comfort and ease because of the soft and rebound memory foam. It is supported by 2 adjustable straps that are used for maximum comfort and stability.
This car neck pillow weighs around 0.88lb and has an ergonomic design. Just like other car pillows, it might get a little hard in cold temperatures.
This thing is not to worry about, as the pillow can get back to being all soft and mushy within 5 mins of warmth provided by the body.
Reviews: 4.2 out of 5 stars
Manufacturer: Dreamer Car
Dimensions: 10.83 x 9.45 x 5.51 inches
Weight: 14.1 ounces
Material: Memory Foam
Brand: Anzhixiu
Color: Black
Key Features
Humanized design for straps
2 covers, for memory foam and outer cover
1-year guarantee
Best use for daily driving
Extra soft and comfortable
Ergonomic design
1-year guarantee
machine-washable
Invisible zipper
Double headrest covering
Not fit for Tesla
Soft for some people
Why Choose This:
With the help of the straps, it is adjustable to the car's seat. 

It absorbs the pressure on the neck caused by continuous driving.

The outer cover is made of washable and durable polyester fiber.

It ends the gap between headrests while driving and adds comfort and a proper body posture.
---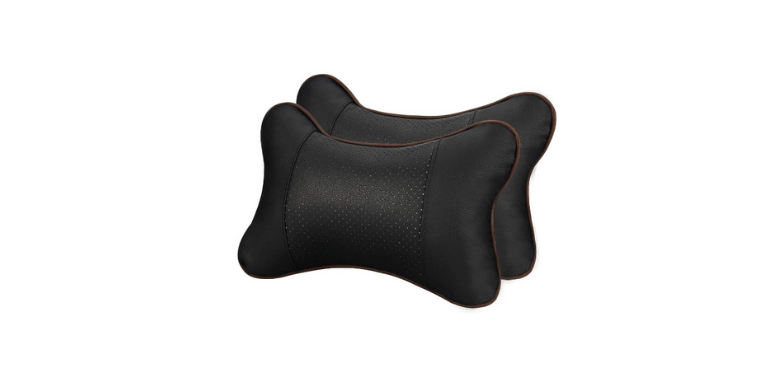 Gudosor pillows are the best car neck pillows in the market if you are looking for pillows that suit you well as a driver and a passenger.
These are butterfly-shaped and they come in a pack of two. Their outer cover is made of artificial leather, but the fabric is perforated and breathable. 
They can be attached to a car seat through straps and are easily adjustable. There is a 1-year non-shrinkage policy on the cover, making it more desirable.
The ergonomic design and pillow shape, also help to maintain and improve the body posture while driving. It is lightweight and comes in a cut butterflylike shape.
The material inside the pillow is memory foam. It allows for a soft and smooth car ride with ease in driving. Memory foam is heat-retentive and it helps to relieve muscle tension.
The back of the pillow has a tight strap-like band that attaches the pillow firmly to the headrest of the car seat.
Brand: JELEGANT
ASIN: B06XRTGD2G
Dimensions: 11.85 x 11.57 x 4.17 inches
Material: Faux Leather
Weight: 240 Grams or 8.5 ounces
Colour: Black
Shape: Butterfly
Model Number: 4332456596
Batteries Required: No
Key Features
Extra comfortable
Durable
Supportive
Breathable PU leather
Shrink proof
Multiple Functions
Lightweight
Perforated design
Compact design; easy to carry
Invisible zipper
Stiff after extensive use
Firm for some
Little head support
Why Choose This:
It has a compact design that is ideal and can be taken everywhere.

It prevents the floating of the neck and head in the car that is caused by continuous fatigue and back pain. 

The quality material used in the making of the pillow enhances the permeability. The blend of natural comfort and artificial means to get it makes it a product worth buying.

It also retains heat to alleviate muscle tension and pain.
---

A car neck pillow design can either be hit or a miss. Zatooto car neck pillows come with a unique design that supports the neck, head, and upper back area.
This might not be suitable for all, but a pillow that most people are looking for. It has straps that can be attached to the headrest and adjusted.
It is a unique design that is made of memory foam. It has a thick outer material and cover that reaches up the headrest. It fills the gap in the upper back and the neck region and offers support.
The breathable and soft fabric makes it comfortable. The height of the pillow can be adjusted with the headrest.
Brand: ZATOOTO
Manufacturer: baidian
Dimensions: 12 x 9 x 5 inches
Shape: Oval
Weight: 13.1 ounces
Material: Memory Foam
Model Number: CHRP-0726-BLK
ASIN: B06X1B15C9
Key Features
Easy to assemble zipper design
smooth and airy
Adjustable headrest height
Premium synthetic quality
Comfortable neck support
Washable pillowcase
Breathable fabric cover
Supports neck and upper back
12 months guarantee
Innovative shape
Shape not suitable for everyone
Firm and stiff for some
Why Choose This:
It is replaceable if any damage occurs to it that is approached by non-human factors.

It is made of durable and firm memory foam with no deformation.

It eases the pain of sudden stopping and moving in heavy traffic hours.

It has a breathable zipper design and soft and comfortable fabric.
---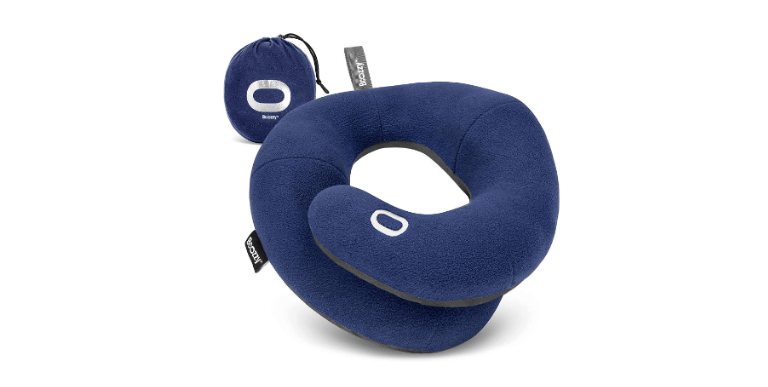 Bczoyy neck travel pillows are also the best ones to give a slight fancy touch to the car. These are available in 18 different colors that give customers a lot of choices to choose from.
This car pillow is machine-washable and does not shrink. The pillow wraps completely around the neck and gives it absolute support and warmth. 
This car pillow also has a strap that makes it easy to carry by attaching it to luggage bags. It doesn't fix the headrest.
The backside of the pillow is light and not bulky, avoiding the amalgam of materials between the headrest and the neck.
The backside of the neck is thin to provide support to people with a longer neck.
Brand: BCOZZY
Material: Polyester
Dimensions: 11.02 x 8.27 x 3.15 inches
Weight: 210 Grams or 7.4 ounces
ASIN: B01DODMU9I
Department: Unisex
Model Number: 20080001
Key Features
Different sizes available
3 ergonomic ways to wear
Easy to carry and clean
Washable
Flat back design
Different colors
Easy to carry
Washable and air-dry
economical
Thin
Large size for people with smaller stature
Why Choose This:
It provides double support t the neck, head, and chin. It is present in various sizes for adults and others.

It is perfect for a sleeper who rotates his head in all directions.

The snap loop or string makes it easier to stick around the luggage or bad, ultimately, makes it easier to carry it.

Its Flat-Back design prevents the head from being pushed forward after sudden breaks or non-spontaneous traffic.
---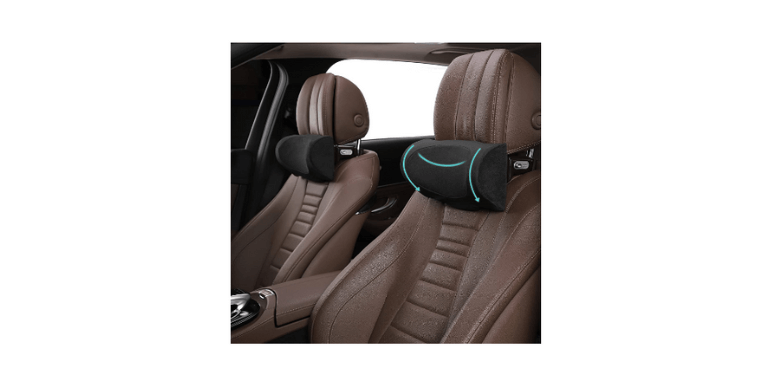 Buluby premium car neck pillows have an exclusive and fancy design. It is an adjustable car neck pillow that can be set with the headrest in a suitable design.
It can be adjusted upward, backward, downward, and sideways depending upon height and feasibility. It suits perfectly the driver and the passenger seat.
It has a curved design and surface that suits perfectly the neck and head. 
This design helps to ease long-term fatigue. The neck support pillow fits the seat perfectly. This neck support pillow is relaxing and adjustable.
The installation is simple and can be installed with simple instructions if followed. It has a high-density suede cloth that absorbs the pain.
The ergonomic design makes the driving experience worth remembering.
Manufacturer: Buluby
Dimensions: 10.75 x 9.09 x 4.09 inches
Color: Beige
Weight: 1.58 pounds
Material: Suede
Model Number: u-shaped car pillow
ASIN: B08MZV1BZV
Shape: Cylindrical
Key Features
Best for daily use
CALSPAN tested
Concave for proper neck fit
One-click installation
Reliable and durable
Collision test by CALSPAN
18 months warranty
Ergonomic design
One-click installation
Car headrests without metal are not advised for use
Why Choose This:
It is easy to use and can be installed without any installation tools. It supports the neck completely at every angle.

It supports the driver and the passenger completely. 

It is convenient to carry and is washable therefore, no special tools are required for cleaning it.
---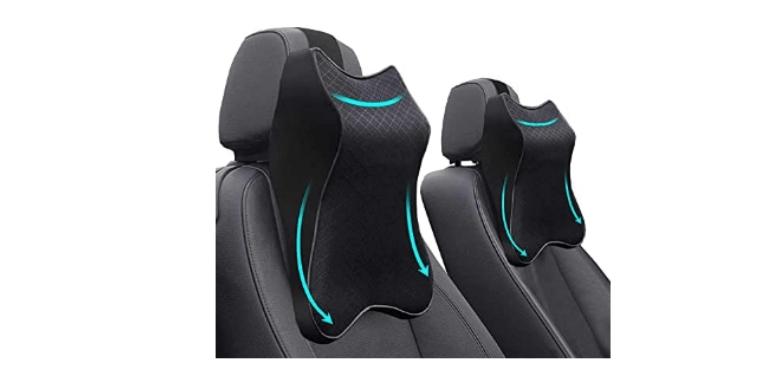 Seahome Comfty Pillows are made using memory cotton which ensures the softness and firmness of the pillows.
They not only support the neck and head but also provide support to the chin and back. It fits the gap between the seats and relieves pain and fatigue.
It is suitable for most stretchable car seats. The high-density memory foam keeps it in shape and extremely comfortable. It gives great support for cervical support and the spine.
It also has a removable and washable cover. The inner cover prevents the flow of dust.
Brand: SeaHome
Dimensions: 12.99 x 11.38 x 5.51 inches
Color: Black 2pcs
Weight: 500 Grams or 1.1 pounds
Material: Memory cotton
Product care: Machine Wash
ASIN: 1.1 pounds

Key Features
Breathable cover
Ergonomic cushion design
Durable and comfortable
Removable cover
Premium quality memory foam
Elastic strap for adjusting
Inner cover to prevent dust
Stable Velcro straps
Removable pillow cover
Not for sports cars
Hard for some people
Why Choose This:
It helps with a spinal adjustment. The memory foam center helps to relieve neck pain.

Its simple and cozy design ensures optimal comfort and support without being super bulky.

It is made up of 100% non-toxic material as said by the manufacturer.

It is best against fatigue and muscle stiffness. 
---
Frequently Asked Questions (FAQ)
Conclusion:
Your travel neck pillow should last you for many years if you take proper care of it. It will endure a lifetime if it is constructed of a hard-wearing, long-lasting material like leather. The best vehicle neck pillows are certified for safety.
They not only provide comfort and convenience, but they also aid in the reduction of the neck, head, and shoulder stresses during lengthy journeys.
From our choice, Anzhixiu car neck pillows are the best suitable pillows considering the features it provides and makes them perfect for long-distance traveling. 
If you take care of your travel pillows and foam cores, they will last you a long time, but they will eventually need to be changed.
To get the most wear out of your items, choose alternatives with machine-washable covers whenever possible..!